Introduction
Spreading the Galaxy S III magic to as many market segments as possible is what Samsung is actively trying to achieve these days. After the power users were treated to the Note II and those looking for a premium experience in a compact shell got the mini, it's now time for the mid-range market to get some attention.
The Samsung Galaxy Premier specs sheet is familiar with the 4.65-inch Super AMOLED touchscreen and the dual-core TI OMAP chipset immediately bringing the Galaxy Nexus to mind. However, calling the Premier a Nexus refresh is wildly inaccurate - the Nature UX adds so much character that you'll hardly be able to tell there's so much in common between the two smartphones.
Let's take a look at what the Galaxy Premier is all about.
Key features
Quad-band GSM and quad-band 3G support
21 Mbps HSDPA and 5.76 Mbps HSUPA support
4.65" 16M-color Super AMOLED capacitive touchscreen of HD (720 x 1280 pixels) resolution; Corning Gorilla Glass 2
Android 4.1.1 Jelly Bean with TouchWiz launcher
1.5 GHz dual-core Cortex-A9 CPU, PowerVR SGX544 GPU, TI OMAP 4470 chipset, 1GB of RAM
8 MP wide-angle lens autofocus camera with LED flash, face, smile and blink detection
1080p HD video recording at 30fps
Dual-band Wi-Fi 802.11 b, g, n
GPS with A-GPS connectivity; GLONASS support, Digital compass
16/32 internal storage, microSD slot
Accelerometer, gyroscope and proximity sensor
Standard 3.5 mm audio jack
microUSB port with USB host and TV-out (1080p) support, MHL, charging
Stereo Bluetooth v4.0
FM radio with RDS
1.9MP secondary video-call camera
NFC support
Document editor
File manager comes preinstalled
Extremely rich video and audio codec support
Relatively large 2100 mAh battery
Main disadvantages
No dedicated camera key
Dual-core Cortex-A9 CPU usually belongs to a lower market segment
All plastic body
PenTile matrix screen of relatively low brightness
Sure, the Samsung Galaxy Premier doesn't have the most exciting specs sheet around, but it takes a formula that was already proven to work and improves on it in a number of key areas. Building on the most popular Nexus smartphone so far, the Premier addresses just about every complaints users had about it.
The mediocre camera is replaced by a more capable 8MP shooter, the chipset got a speed update and a more powerful GPU, while the uninspiring styling got spiced up with a dash of Galaxy S III. There is also an ampler battery to take care of the relatively short endurance and a microSD card slot for cheap memory expansion.
And yes, the stock Android looks are gone, but they are replaced by the Nature UX, which is not only way more functional, but also the best looking TouchWiz version so far.
Let's see if all those tweaks actually look as promised - the hardware inspection starts right after the break.
Display
The display on the Galaxy Premier is a 4.65" Super AMOLED unit with a resolution of 720 x 1280 pixels, resulting in a density of approximately 316 pixels per inch. The specs might be identical to what we had a year ago, but this still remains the most pixel dense AMOLED screen out there.
As usual for AMOLED display, colors are vibrant and contrast is impressively high. Unlike the Galaxy Nexus, the Galaxy Premier offers three display modes, which lets you tune down the colors if you don't like the default oversaturated look.
The brightness of the screen isn't particularly impressive, but the Galaxy Premier is still brighter than the Galaxy Nexus, so it's definitely a step in the right direction. And given that Super AMOLED displays are pretty resistant to reflections, the sunlight legibility of the Galaxy Nexus is pretty good.
Handling
Overall, the handling of the Samsung Galaxy Premier is a very pleasant experience. It's just big enough to remain comfortable to hold in one hand. The plastic finish is of high quality and is quite enjoyable to the touch.
There's a certain charisma to the Samsung Galaxy Premier - it's both good looking and solidly built. Samsung seems to be adopting the premium design of the Galaxy S III in both its entry- and mid-range products and the result is an elegant device, which is done just right, without being overdesigned.
Gallery has some great extras
The Samsung Galaxy Premier comes with a new eye-candy-rich Gallery app. It opens up in Albums view, but photos can also be sorted by Location, Time, Person (photos with tagged faces), Group and Favorites.
You can also switch between three view modes - rectangular grid, a grid that's spread out in 3D space and a 3D spiral (which is the least useful of all). In each of the three view modes, you can pinch zoom to make the thumbnails bigger. Unlike Sony's gallery, you only get two zoom levels here.
When viewing a single photo, you'll find Star, Share and Delete buttons above the photo, while below is a line of small thumbnails of all other photos in the album. You can tap those small thumbnails to move to other images or you can just swipe to the side.
We also found that unlike other droids, the Galaxy Premier lets you select folders from several different folders for batch operations.
The list of features goes on. There are a couple of photo editing options and a crop tool. Contextual tags display labels with the location, who's in the photo and the date (if there's a GPS tag and you've taught the Premier about what your friends look like). Then there's the print option, so you can print out photos without going through a computer first (but you'll need a Samsung printer).
When viewing a photo with people's faces in it, the Galaxy Premier will try to detect them automatically (and you can manually highlight faces where it fails). Buddy photo share will use your contacts' profiles to try and recognize who is who automatically.
Social tag makes sure that whenever a face is recognized in the photo, their status message appears and you can easily call or message that contact.
Another option allows you to OCR a photo and copy the text. This is very handy if you often work with documents but don't have a scanner and a computer handy.
And if you thought that Samsung didn't include the kitchen sink, the option to add weather tags to a photo (a feature courtesy of AccuWeather) should change your mind. We still can't figure out what the use for that may be, but it's there if you need it.
TouchWiz music player gets an overhaul
The Samsung Galaxy Premier uses an updated version of the TouchWiz music player. Samsung has enabled equalizer presets (including a custom one) along with the sound-enhancing SoundAlive technology, which features 7.1 channel virtualization. Samsung uses SoundAlive in some of their MP3 and Android-powered media players.
Music is sorted into various categories, but the most interesting one is called Music square - it's quite similar to the SensMe feature of Sony Ericsson phones. It automatically rates a song as exciting or calm, passionate or joyful and plots those songs on a square (hence the name).
From here, you can highlight an area of the square and the phone will automatically build a playlist of songs that matches your selection.
You can swipe the album art left and right to move between songs. You can also put the phone face down to mute the sound or place your palm over the screen to pause playback.
The Galaxy Premier player is DLNA-enabled, so you're not limited to tracks on your handset - songs on devices connected to your Wi-Fi network are as easy to get to as locally stored songs.
Video player has it all
Samsung has put what is easily the best default video player on the Samsung Galaxy Premier. It offers several view modes - grid, list, folders and nearby devices (which accesses DLNA devices).
The grid view is our favorite as it is a true quad-core tour de force - the visible video thumbnails (all eight of them) are actually playing the videos instead of being static images. They play at a reduced framerate and generating those previews takes a couple of minutes the first time around, but it's an awesome preview and it's impressive that we can see this on a non-quad-core device.
The video player lets you choose between three crop modes for how the video fits the screen. The same SoundAlive audio-enhancing technology is available here too.
The video player lets you squeeze the best viewing experience out of the large, high-res screen. You can adjust video brightness, color tone and enable outdoor visibility too.
The video player had absolutely no trouble with any of the files we threw at it - starting with .WMV, through .AVI (DivX and XviD) and .MP4 to .MKV (H.264). Resolution wasn't a problem either - the Samsung Galaxy Premier played FullHD files and larger files seamlessly.
The Samsung Galaxy Premier made another good impression when it offered us a list of subtitles and let us pick. It scans for all subtitles, so the file doesn't have to have the same name as the video file.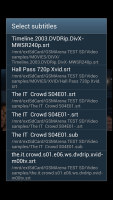 Picking the right subtitle file, the easy way
The video player on the Premier has a feature called Pop up play - it moves the video in a small floating window and you can use other apps on the phone while still watching the video. With Jelly Bean, you can use pinch zoom to adjust the size of the video - we're once again impressed at how well this worked on such a midrange-spec'd device.
FM Radio with RDS, broadcast recording
The Galaxy Premier is equipped with an FM radio with RDS too. The interface is simple - there's a tuning dial and you can save as many as 8 stations as favorites. You can also play on the loudspeaker, but the headset is still needed as it acts as the antenna. You can record radio broadcasts as well.
Decent audio output
The Samsung Galaxy Premier did quite well in the first part of our audio quality test. When connected to an active external amplifier the smartphone got excellent scores all over the field, with no weak points whatsoever.
When headphones come into play the distortion levels rise a bit and the stereo crosstalk spikes, but the rest of the readings remain pretty good. Still, volume levels are no better than average in either case, so the overall performance definitely has some room for improvement.
Full connectivity capabilities
The Samsung Galaxy Premier has a long list of connectivity features. Let's start off with the basics - quad-band GSM/GPRS/EDGE and quad-band 3G (AWS is missing though). The 3G connectivity is backed by HSPA (21Mbps downlink, 5.76Mbps uplink).
The Wi-Fi support covers a/b/g/n, with both 2.4GHz and 5GHz band compatibility. Wi-Fi Direct and DLNA are part of the package, of course.
There's also Bluetooth 4.0 LE, which incorporates Bluetooth 3.0, but also includes the efficient Low Energy mode. It also supports the high-quality Apt-X audio codec.
The Premier lets you share all sorts of media via NFC by simply touching the devices back-to-back. You'd need two S Beam-enabled devices to get this to work - while not many models support it, there are plenty of Galaxy S III's around.
You can share with other NFC devices as well, but the functionality is limited to what is provided by Android Beam - Android's stock NFC tool.
The AllShare functionality is now split into two: AllShare Play and AllShare Cast. The first is for transferring and sharing data and multimedia files to your notebook or PC. AllShare Cast on the other hand provides streaming content to and from different kind of devices (TV or computer) over DLNA.
And finally, for wired connectivity we have the MHL port. By all appearances it is a normal microUSB port and works as one (a charger port as well). But the MHL port enables video output by using a MHL-to-HDMI dongle. Sadly, there isn't one included in the retail box.
The MHL port has yet another feature - it enables USB On-The-Go. You'll need an adapter for that too (there isn't one in the box) but this one is fairly straight forward - you plug it into the Galaxy Premier and plug a standard USB cable on the other end.
Just about every USB thumb drives and card reader we tried worked and reading all sorts of cards was problem-free - it even worked with a big CF card. Connecting phones worked pretty well too - we were able to access the memory of a Nokia 808 PureView we had laying around straight from the Galaxy Premier.
Awesome web browser
A new Android version always comes with an improved web browser and the Jelly Bean browser running on the Samsung Galaxy Premier is no exception. Samsung has put its own spin to it too.
The browser interface is almost non-existent - just a row at the top of the screen for the back and forward buttons, the URL bar with a refresh button, the tab switching key and the bookmarks key.
The browser supports both double tap and pinch zooming along with the two-finger tilt zoom. There are niceties such as text reflow, find on page, save for offline viewing, request desktop site and so on. A neat trick is to pinch zoom out beyond the minimum - that opens up the tabs view.
The Web browser comes with Incognito mode, which lets you surf the web without the browser keeping track of your history or storing cookies.
Another Samsung feature in the browser is the Print option, which lets you print out web pages straight from your phone. Unfortunately, this only works only with Samsung printers.
Quick controls are our favorite feature of the Android browser and they've gotten even better with Android 4.1 Jelly Bean. In case you've missed it, Quick Controls is basically a jog-dial menu that replaces the buttons on the top and appears when you place your finger near the left or right edge of the screen. It's even more minimalist than the regular UI and it's very comfortable to use single-handed.
You get five controls, but as you highlight one with your finger, it fans out into further options. Tabs, for example, bring out the tab switcher by default, but it also brings out options to open a new tab, a new incognito tab or close the current tab.
Brightness and colors gives you four different presets to adjust the display. Automatic brightness is an option, too, and works only within the browser.
Adobe do not officially support Flash on Jelly Bean, but you can side-load it if you like (1080p YouTube videos worked fine once we did). Still, you'd be better off sticking to the HTML5 versions of web sites - YouTube works and there are even a number of HTML5 games.
Conclusion